Highly-palatable Waterline Solution for Post-weaning Pigs
Improves water intake immediately after weaning
Reduces the number of fall behinds
Reduces stress at weaning and transport
POST-WEANING

+1d*, +2d, +3d:
Tonisity PxW WeanBetter
(3-day protocol)
*d+1 is the weaning day
POST-WEANING

+1d, +2d, +3d, +4d, +5d:
Tonisity PxW WeanBetter
(5-day protocol)
Improve Water Intake – Increase Feed Intake – Achieve Heavier Pigs
Click on the outer segments to view more trial information


An innovative and palatable combination of key amino acids, prebiotics and electrolytes that hydrates and supports the gut to help weaned piglets during stressful transition periods.
Weaning is one of the most stressful events in a pig's life. If pigs don't start drinking early post-weaning, feeding is delayed, leading to weight loss, disease, and even mortality. By boosting water intake while supporting the gut through stressful periods, Tonisity PxW WeanBetter ensures pigs are off to a great start. Encourage water intake in newly-weaned pigs or pigs being transported with Tonisity PxW WeanBetter.
Tonisity PxW is designed to be administered to pigs after weaning through water lines.
Tonisity PxW comes in 1kg resealable bags.
Pigs drink Tonisity PxW less than half an hour after arrival.
We have conducted extensive research on the effects of Tonisity PxW on post-weaning pig performance
Meta-analysis of water intake, fall behinds and mortality on 31,861 pigs in total (7 trials in the US)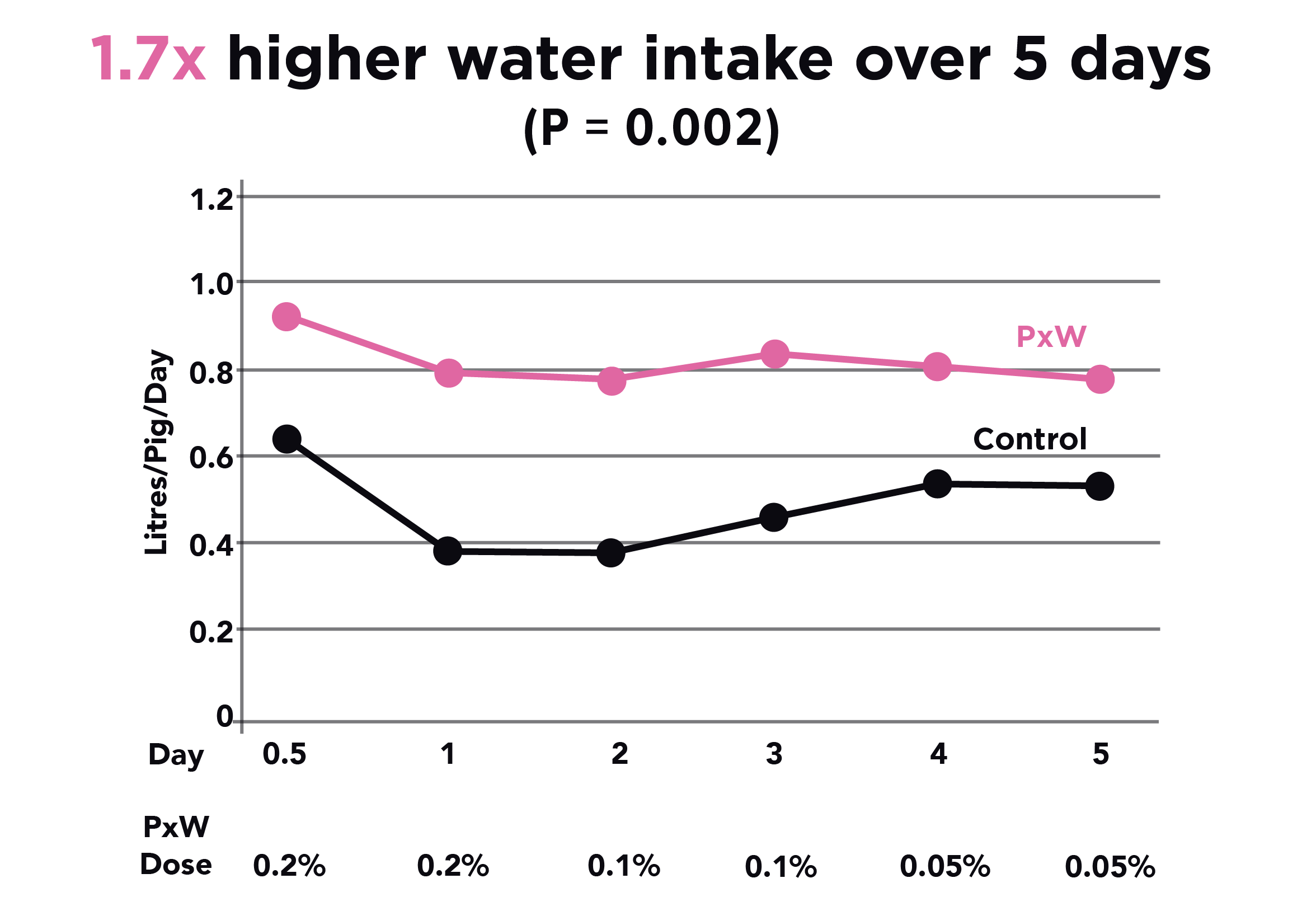 Contact the Distributor for your region.
Speak to one of our swine experts
Using Tonisity PxW in
your system.
How to use Tonisity PxW in medicator pump
Add 1kg of Tonisity PxW powder to 4L of water to make a liquid concentrated solution in a suitable container
Mix well until dissolved
The concentrated solution of Tonisity PxW should be delivered through the water lines using an automatic dosing system, with the dilution rate set at 1 part of concentrated Tonisity PxW to 100 parts water (1:100). 5L of concentrate supplies 500 weaners for a day.
We suggest using either a 3-day or 5-day protocol. For best results, we suggest using the 5-day protocol. Weaned pigs should receive a full dose on day one and a half or quarter dose on the remaining days of the protocol, to allow for a smooth transition to just water.